What Others Have to Say
---
---

Fractal Gallery -- A site full of fractal and non-fractal art.
Mathematics Fun, Fact, Fiction, Function, Fantasy -- A page of interesting math, including large numbers, mathematicians, math tricks, properties of numbers, many interesting links, and much more.
Curious Math -- This site includes various interesting things you can do with math, from the simple to the complex.
Math in the Movies -- This site is small now but promises to feature more discussion and rating of mathematicians and math's portrayal in films, both new and old.
Mathematical Quotations Server -- This site provides interesting and unusual quotes from numerous mathematicians.
42 -- A page dedicated to the number which may be the answer to Life, the Universe, and, well, Everything.
---
Atanasoff-Berry Computer -- The first electronic digital computer was built at Iowa State University between 1937 and 1942.
Historical Computer Society -- This is an organization for collectors of old computers. The site also features an online museum.
The New Hacker's Dictionary -- Fascinating and long, this goes into the etymology, use, history, etc. of various computer and Net-related terms. It is far more than just a dictionary.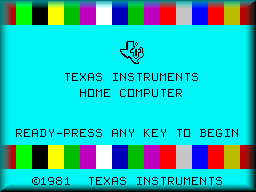 TI 99/4A Home Computer -- This was the way that I learned to program in BASIC, a color computer hooked up to a television set and a cassette player for saving and retrieving programs. It's still good for playing games (from cartridges or tapes), and some hobbyists even use their TIs to connect to the Internet.... After all, old technology sometimes works better than the new. The TI never had a General Protection Fault and it's still going....
---
Dumbentia -- Advertising and the corporate mentality give rise to parodies and other humorous interpretations.
Demotivators -- This is a pessimistic response to the standard motivational posters seen in offices everywhere.
You know you are addicted to the Internet when . . . you read the entire page at this link.
101 Uses for AOL Disks -- You can't escape them, so you had might as well use them ... although some of the things suggested here are highly unusual.
Reality Bytes -- Here you will find humorous articles dealing with technology and the response of people to technology, particularly in the form of computers.

The Dilbert Zone -- This is the official site for the Scott Adams cartoon which satirizes backstabbing co-workers, clueless bosses, endless meetings, cubicles, computers, corporate America, and anyone who goes against Murphy's Law.

The Simpsons -- Cartoon humor with quirky yellow people. Modern cartoon humor with many culture references.


Science Fiction and Science Fact
These are places I can get off the planet for a minute, to real or fictional worlds...
Space Links
I enjoy a lot of science fiction books and television, but a real appreciation of these requires an understanding of the new discoveries in the universe they touch, our own.


For space images, you can take a look at Mars or spend some time goggling over Hubble Space Telescope Images. (The colorful Hubble image seen at the right is called Cygnus Loop, Blast Wave from a Stellar Time-Bomb. It is a thumbnail version of a larger image, one of many that can be seen at this site in their full glory. Be sure to take a look.) For astronomical art, try Joe Tucciarone's site. Amazing stuff.


If you're more interested in space exploration's history, have a look at The Smithsonian Air and Space Museum. I'd better put in a link to NASA's site. There are many interesting nooks and crannies on this site that can be quite absorbing, especially the copious information about the

history of manned spaceflight, particularly the massive amount of information from the Apollo program, such as the Apollo Lunar Surface Journal. Also the Mueller Planetarium astronomy links page contains some advice for budding star-watchers, scripts for PBS's Star Gazer (formerly Star Hustler) television program, and more.
Science Fiction Links
These links are mainly for television programs. Much of the best science fiction is in print; for these see my books page. Some science fiction fans gather best on the Internet on USENET newsgroups, which is good if you know only one other person in your town who knows the Three Laws of Robotics, let alone wants to discuss them with you. Beyond these mini-communities with their own, sometimes quite alien, cultures, there are some websites on which you can gather information...
SF References in Music List -- This is a comprehensive list of references to science fiction in music, organized by artist(s). (Some of these names are quite interesting in themselves.)
Some of the cleverest science fiction comes from England. See my England page for things such as The Prisoner, Doctor Who and its appreciation society, Blake's 7 and more.
Yes, I do like many Star Trek episodes. STArchives gives information about all four series and more.
As far as journeys go, the best one so far was on Babylon 5. You may have heard of this program but perhaps figured that its plotlines and foreshadowings would make it difficult to follow. There is help if you want to jump in now. And, while B5 demands that you think, you don't have to notice all of the tiny details that make the station a little more interesting.
If you'd like to get a general idea of the program, you could turn to the official Babylon 5 web site. But a better overview, and the most complete B5 resource on the Internet, is provided by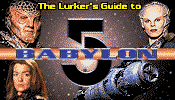 , named in honor of the denizens of the seedy, unfinished "Downbelow" section of the station which, in turn, was named for people who read things online but stay in the background. Many more links, to humor, an encyclopedia of every alien race that has appeared on B5, even discussion of the conversations we've seen held in one of B5's washrooms can be found on the Lurker's Guide's resources page.
Christopher Franke, formerly of the progressive rock band Tangerine Dream, provided the score for the program. Rearranged as suites, his music for some of the episodes is available here. This leads nicely onto another of my pages, the Music page, containing, well, all sorts of stuff really.
Stargate SG1 is based on the movie Stargate. This series greatly expands on the movie and introduces many interesting elements. It is my favorite of the shows that are still running. It is full of plot twists and interesting ideas. There is now a spin-off called Stargate Atlantis.

Random SF Links
Most of this is science fiction most of us forgot about after it aired. There are some good ideas and characters to remember, though I wouldn't want to go "whole hog" into fannish devotion to any of these:
---
© 2005 by Frances Shefl.
Some ideas and descriptions provided by Anna Shefl
"Babylon 5" and the Babylon 5 theme are © and ™ 1992-1998, PTN Consortium.