International, but Mainly
England, Page
---
This page is here to provide links to such things as various languages' dictionaries, a site which allows you to check the distance and route between any two towns or cities, and the National Geographic Society.
But its main raison d'être is to give a place to showcase England.
There are a lot of Anglophiles in this country who enjoy the accents, tea ritual, Monty Python or other exports the United Kingdom offers. But Shakespeare and The Phantom of the Opera are only a little bit of what the UK has to offer. For instance, my sister points out that the UK offers mad cow disease, Tony Blair, and the Spice Girls.
---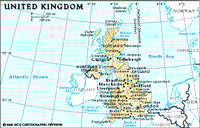 The United Kingdom is home to slightly under 60 million people. There are four sections of the United Kingdom -- England, Wales, Scotland, and Northern Ireland. Most Brits don't mind being called Brits. Great Britain does not include Northern Ireland, but the United Kingdom does. Confused? Just be grateful that the money at least makes sense, involving a decimal system like ours instead of the pounds, shillings, and pence made famous so many years ago.
The British Isles are located west of the European continent. Directly across the English Channel is France, now connected to England by the Channel Tunnel. This means that there is an important difference in time between England and the U.S. Much of England is six hours ahead of my location in midwestern America.
You can find out a lot about England from the homepage of Cambridge University, which my sister, Anna, attended (the University, not the homepage (that would be silly)). The history, relaxed relationship with some quaint traditions, wit, and whatever to be found in Cambridge I almost feel I can sense somewhat from there. They have given the world the stunning -- Steven Hawking, Isaac Newton, Ernest Rutherford, William Wordsworth -- and the strange -- pulsars, Yoko Ono, Oliver Cromwell, Pink Floyd, Douglas Adams....
Before you get too far into the website or other things British, you might find unfamiliar words. --I ate tea by the telly. It was a bit off ... bangers and mash and chips!-- You can get out of the loo and onto the lift with this site's English-American dictionary. (This first one is a simple dictionary of British English.) For special Cambridge (and Oxford, the "other place") terms, go here.

---
What England offers: Here are some sites about different things I like from England.
Television, Film, & Media
Films from Britain include the Monty Python movies (films), Clockwork Orange, and Lawrence of Arabia, Star Wars, 2001: A Space Odyssey, and other big-budget movies were filmed in the UK; a lot of scenes are shot in the craggy bits and quarries of the country (there are rather a lot of these, as fans of Blake's 7 can tell you), which can represent anything from an alien planet to an out of the way hideout, with help from terrain and technical experts provided by the UK. For more, the Internet Movie Database will be of help. The British film industry has been overshadowed by that of the U.S., which has vastly more money. Attempts to revitalize (revitalise) the British film industry included the efforts of George Harrison, who provided financial, musical, and other backing so such movies as Time Bandits (Handmade Films) could see daylight. Locally, we may have to be content to see Brits represented in films such as Mrs. Doubtfire and the many James Bond movies. Lately, there have been evil Brits in several popular films.
But really where the UK entertainment industry excels is in television, where the words and facial expressions used by a few people talking in front of a camera produce timeless drama.
Most familiar will be the British situation comedies and science fiction program(me)s shown on your public television station. If you're somewhat local, that would be IPTV, as Nebraska's PBS station has dropped the science fiction If you're not local, try your local PBS station or the BBCAmerica channel, or if you're extremely not local, the BBC. Just about everyone can hear what is often regarded as the best news in the world -- BBC news (Note that they do have biases and are funded by government money, kind of like PBS.). Almost every television station or radio news report will include a British correspondent, from ABC News to ISN Mars Bureau. To see what the BBC shows these days, check out the online schedules. For other news and opinions from the UK, try the Electronic Telegraph.
Here is some information on some of the many British comedies popular in the U.S.:
Employees in the men's and women's clothing departments of an old-fashioned department store try to work together while vying for promotions and good sales.
In this program(me), we follow the misadventures of one of the most embarrassing people ever. He has a certain vicious streak, the innocence of a child, and enough ingenuity and imagination to cause more than enough trouble. Late for a morning dental appointment, he dresses in the car while driving. When the dentist is indisposed, Mr. Bean decides to save time and perform the dental surgery himself. It takes skill to do physical humo(u)r, and Rowan Atkinson has the sense of timing and ideas to excel at this.
Hyacinth Bucket (which she pronounces Boo-kay) is a "poseur" (pronounced pozer); she attempts to appear upper-class and respectable, while her relatives are anything but. She tries to impress us with her singing, interrogates the milkman about the pedigree of the cow...
A group of senior citizens volunteer to serve in the army during World War II, with hilarious consequences.
This program provides very unusual humor, not for the easily offended. Some sketches are quite silly. A lot of the humor depends on being British too. A test of whether you're ready to immigrate...
There are many more. If you watch them long enough, you will begin to understand something of England, though only part. Be warned. You might not come back...
There are also great dramas. Watch Masterpiece Theatre some time. Derek Jacobi, who played Claudius in this program's production of "I, Claudius," based on Peter Graves's novel, also starred in the Mystery! program Cadfael as a medi(a)eval monk solving murders. Fascinating, and Mystery! also holds other good British drama. The Brits did, after all, give us Sherlock Holmes.
Another popular genre of British television in the U.S. is science fiction. While not always having the best special effects, British SF possesses a certain cleverness and a unique quality that sets it apart.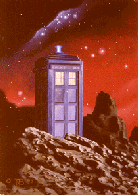 The world's longest running science fiction program(me), Doctor Who, is from England. Doctor Who follows the travels of an alien Time Lord and his (mostly) human companions as they journey through space and time in a ship, called the TARDIS, disguised (though not very well) as an old-fashioned British Police call box.
Doctor Who Home Page
Doctor Who Appreciation Society
Another interesting science fiction program is Blake's 7, a dark vision of Terry Nation, who created the famed Daleks on Doctor Who. This series tells the story of a band of freedom fighters attempting to overthrow the oppressive Earth Federation. There are not always happy endings here, nor had all the "heroes" been imprisoned without reason... The program also featured one of the first strong female baddies probably.
Another fascinating program that is sometimes classified as science fiction is The Prisoner. This show follows a man, known only as Number Six. When he quit his job, he was abducted and taken to a surreal place known only as The Village. This program takes you to the edge of paranoia and curiosity.
Don't try taking your television to the UK. Even if you get it plugged in and it doesn't object to the voltage, US sets and UK ones don't speak the same language.
Music & Musical Theater (Theatre)
There are many excellent music groups from England. Not least among these are the Beatles. Many other groups I like come from England, including Pink Floyd and Hawkwind. You can find information about these groups and others on my music page.
One of the most recognizable (recognisable) names from British musical theater is Sir Andrew Lloyd Webber. He has written the music for many musicals, including The Phantom of the Opera, Cats, Jesus Christ Superstar, and Joseph and the Amazing Technicolor Dreamcoat, to name but a few.
Churches & Castles
There are a lot of these.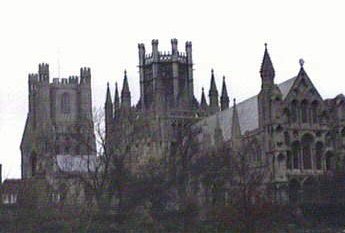 Ely Cathedral, near Cambridge, has some interesting architecture. It is, by the way, seen on the cover of Pink Floyd's album The Division Bell, but here's a picture close up and without two statues of heads: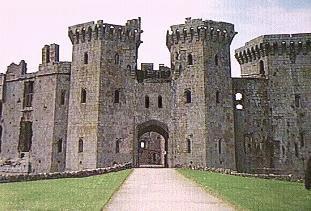 Raglan Castle in Wales is probably most closely associated with William ap Thomas, who fought with King Henry V at the Battle of Agincourt in 1415. One can see the power of both the victors and the conquerors in places like this.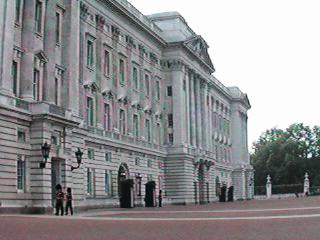 Buckingham Palace, the official London residence of the Queen, contrasts sharply with Raglan Castle. It appears more formal and has less of the classic look of a castle. If a flag is flying there, or at one of the other two of the Queen's official residences, she is there at the moment.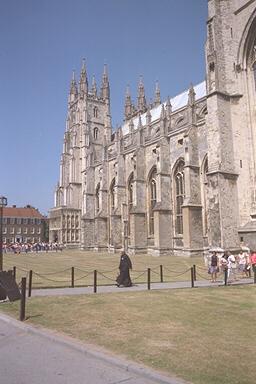 Canterbury Cathedral has long been known as a famous pilgrims' site. You may recall this as the destination of the travelers in Geoffrey Chaucer's The Canterbury Tales. And many pilgrims still come so many years later.
Just as cathedrals and castles make a statement about power/strength of whatever sort, the contours of villages and cities have done the same at a practical level.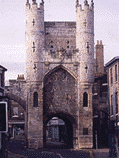 The longest and the most well-preserved city walls in England surround the city of York. Sections of these walls date from different time periods, from Roman times through the Middle Ages to the Victorian era and on. Bootham Bar (Gate), which stands on the site of one of the four gateways into the Roman fortress, contains some of the earliest medieval stonework on the walls. There has been a gateway on this site for the last 1900 years. The walls, like the radially built, organic cities within, show a past which can be difficult to imagine from U.S. shores.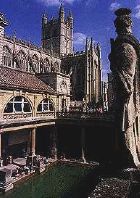 And there are structures in England which make some of these seem new by comparison. For example, the heated Roman baths at Bath were used until quite recently and took on varying religious and political significance over the years. (Again, see The Canterbury Tales for only one example.)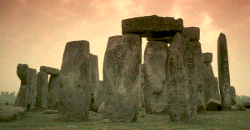 Older still is Stonehenge, well known as a prehistoric temple with astrological significance. However, its significance as a more practical stronghold statement has been posited alongside theories that the mysterious Druids did not exist.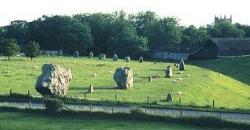 Less well known than Stonehenge but larger and with public access (gardeners weed around their megaliths) is Avebury. These stone circles in Wiltshire are older than those of Stonehenge. The age difference is evident from the fact that Stonehenge's megaliths were cut, while Avebury's were not. Avebury originally included about 400 stones, considerably more than Stonehenge. The Avebury circles also cover a greater area.
---
If you're now ready to jump off your chair and onto an airplane (aeroplane), here is some advice for travelers. You will not need a visa if you plan to stay for fewer than six months. You should also check the BritRail timetables and some English food, if you plan on using either. Many things, such as gasoline (petrol), should you have an international driver's license, are much more costly in the UK.
---
© 2005 by Frances Shefl
Assistance provided by Anna Shefl